3 month old gray and white tabby missing in the Walmart parking lot, in Villa Park (on Rt 83). If found, please contact Muhammad at 858-610-6831.
Cookie, a very friendly, tuxedo female, went missing on April 25th on the north side of Elmhurst. She is black on top, with a white chin, underside, and paws, and is a few years old. She is wearing a collar, and she has a microchip. She responds to her name when called. If you have […]
Our little Scout is missing! She is a gray cat, about 10 lbs with a black collar. Lost on the Prairie Path – Westmore and E. Division St. in Lombard on the edge of Villa Park on March 21, 2018. She is very skittish. Please call or text if you see her. 630.215.3912. I know […]
5 month old orange tabby, Henry, is missing in West Chicago. He was last seen behind the Lumber Liquidators & Piano Land businesses (around 2380 W Roosevelt Rd.) on September 28. At the time he weighed around 6 lbs. He is not wearing a collar, but has a kink at the tip of his tail. […]
Male, possible cross between a Himalyan and Main Coon. Last seen at our home on Bryan Street, Elmhurst about 9:00 pm on Wednesday October 11th. He is well taken care of, chipped and friendly with people. His name is Charley. I can be reached 24 hours a day on my mobile at 630-661-1215. Ask for […]
Basco went missing yesterday (Saturday, June 24 at around 6 PM). Basco is an orange colored/male/domestic shorthair cat that was last seen in Wisconsin Avenue and Armitage Avenue in Addison, IL. The nearest main intersection is North Avenue and Addison Avenue. His chip# is: 029627058. If you believe you have seen this missing cat, please […]
Jovie is a 10 month old spayed female tortoiseshell. She has a distinctive half light, half dark face, and is microchipped and has all her claws. She was last seen in unincorporated southeastern Algonquin, along the river on Winaki Trail. When lost, she was wearing a green safety collar with Christmas tree pattern and a […]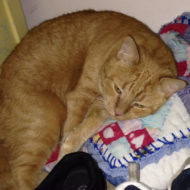 Orange tabby missing near St. Charles Rd and West Rd in Lombard Please contact Diane at diane6304@yahoo.com
6 year old tabby male missing since 8/14/2015 Microchip: 0A122D5A09 Area of Fullerton / Mannheim in Melrose Park Reference #: 1418984 "Puppy" also has tufts on tips of his ears and may have been relocated . Also drawn to special needs or autistic child.I believe someone may have him. This pet needs your help! If […]
White female Area of Willowbrook Missing since Dec 19 If you have any information please email us at info@lostmykitty.com or call us directly at 877-818-0060.