Basco went missing yesterday (Saturday, June 24 at around 6 PM). Basco is an orange colored/male/domestic shorthair cat that was last seen in Wisconsin Avenue and Armitage Avenue in Addison, IL. The nearest main intersection is North Avenue and Addison Avenue. His chip# is: 029627058. If you believe you have seen this missing cat, please […]
Jovie is a 10 month old spayed female tortoiseshell. She has a distinctive half light, half dark face, and is microchipped and has all her claws. She was last seen in unincorporated southeastern Algonquin, along the river on Winaki Trail. When lost, she was wearing a green safety collar with Christmas tree pattern and a […]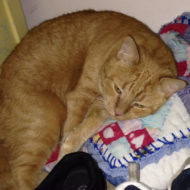 Orange tabby missing near St. Charles Rd and West Rd in Lombard Please contact Diane at diane6304@yahoo.com
6 year old tabby male missing since 8/14/2015 Microchip: 0A122D5A09 Area of Fullerton / Mannheim in Melrose Park Reference #: 1418984 "Puppy" also has tufts on tips of his ears and may have been relocated . Also drawn to special needs or autistic child.I believe someone may have him. This pet needs your help! If […]
White female Area of Willowbrook Missing since Dec 19 If you have any information please email us at info@lostmykitty.com or call us directly at 877-818-0060.
1.5 year old white/tabby male Area of West School Street in Lombard If you have seen this cat, please contact Dan at 630-917-0664, or Marie, at 630-995-1291.
6 month old male with blue eyes, light and dark gray short hair, with black collar and tags Microchip Number 900164000740430 Last seen on Dec 11, near Roselle 855-777-2447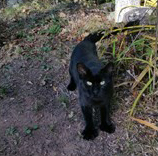 2 year old short hair black male with polydactyl front paws Area of Armitage Ave / Scott St in Melrose Park Cinder is currently missing! He is a 2 year old, all black American Shorthair. He is polydactyl (on his front paws). He is about 11lbs and friendly. He is being treated for an ear […]
4 year old Cornish Rex male Microchip: 972270000336539 Area of: Old Willow Rd/Willow Rd. in Northfield Zooey was last seen on December 10th near our house. He is a friendly cat and we really miss him. If you have seen him please let us know. This pet needs your help! If you have any information […]
Silver/gray/tan/cream female Missing in Carol Stream since Dec 4, 2015 If you have any information, please contact Jenny at 630-677-4974.